Profile Software Services, specialist in IT consulting and services, architecture, and software development, has become a certified Red Hat Solutions Provider, forming a strong alliance with the leading provider of open-source enterprise solutions for cloud computing.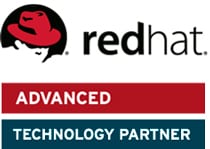 With this certification, Red Hat recognizes companies with proven experience in providing its cloud-based solutions and acknowledges their commitment to supporting continuous digital transformation around the globe.
Red Hat maintains and distributes, among others, RHEL (Red Hat Enterprise Linux) and OpenShift, which provide demanding companies with a solid infrastructure for both could and hybrid environments.
Large organizations around the world such as Cisco, DreamWorks, ING, and even the White House use Red Hat.
Why work with Red Hat? Here is a summary of the benefits of using Red Hat products:
Red Hat products are high quality, reliable, and consistently proven to perform strongly. "Tested. Checked. Approved."
They are easy to integrate, adapt, and expand with a high degree of scalability.
They allow hybrid infrastructures on the cloud. Microsoft-based systems can be easily connected.
Red Hat products offer excellent security through SELinux, which protects systems from attacks.
Support and assistance services are offered 24 hours a day 7 days a week, along with access to the Red Hat knowledge base.
As a Red Hat Solutions Provider, Profile accredits its knowledge and experience in the implementation and exploitation of Red Hat IaaS (Infrastructure as a Service) and PaaS (Platform as a Service), OpenStack and OpenShift, as well as its ability to develop software that integrates with these services, increasing scalability, capabilities, automation, and portability.
Are you looking for a custom solution for cloud computing? We will help you with your digital transformation! Contact us..
---
About Profile
Profile Software Services is an IT services and software development company with offices in both Madrid and Barcelona and currently employing more than 160 people: specialists in web development, systems, Big Data, cloud computing, and UX. Established in 1999, Profile continues to aid organizations in their digital transformation by providing consulting, projects, services, management, outsourcing, and training.
¿Te pareció interesante? Compártelo: