Our philosophy
"Excellence and quality"
We enjoy doing things well
In Profile, we know how to offer our clients the best products and services: select the most reliable and advanced technologies, apply Agile methodologies to our projects, and above all else, harness the enormous talent of our team.
We care a lot about the quality of our work.
We avoid shortcuts, delays and excuses.
In Profile, we enjoy what we do, and because of that, our clients appreciate the quality of our work, which is something we are especially proud of.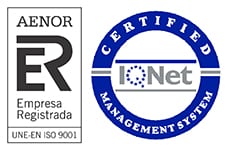 Our quality system is certificated by AENOR, Spanish Association for Standardization and Certification, conform the ISO 9001 standards for outsourced software development services and systems administration.
How do we help big companies in their Digital Transformation?
Find out some of our success stories and our client's testimonials
Success stories